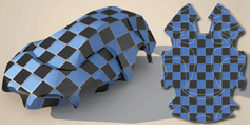 Curved Folding
Martin Kilian, Simon Floery, Zhonggui Chen, Niloy J. Mitra, Alla Sheffer, Helmut Pottmann
ACM SIGGRAPH 2008
Abstract:
Fascinating and elegant shapes may be folded from a single planar sheet of material without stretching, tearing or cutting, if one incorporates curved folds into the design. We present an optimizationbased computational framework for design and digital reconstruction of surfaces which can be produced by curved folding. Our work not only contributes to applications in architecture and industrial design, but it also provides a new way to study the complex and largely unexplored phenomena arising in curved folding.
Results: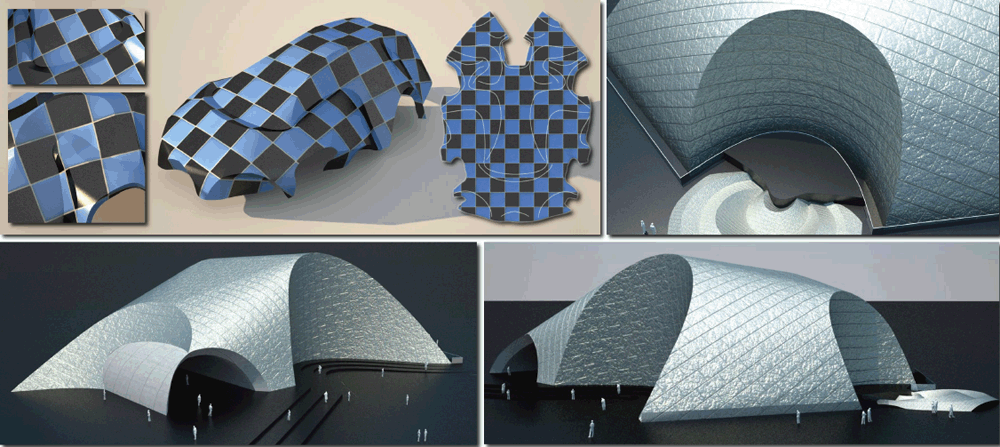 Top left: Reconstruction of a car model based on a felt design by Gregory Epps. Close-ups of the hood and the rear wheelhouse are shown on the left. The fold lines are highlighted on the car's development. Top right and bottom: Architectural design. All shown surfaces can be isometrically unfolded into the plane without cutting along edges and can thus be texture mapped without any seams or distortions.
| | | |
| --- | --- | --- |
| | | The car model and its development (top right). The patch decomposition into torsal ruled surfaces is shown using the following color scheme: planes are shown in yellow, cylinders in green, cones in red, and tangent surfaces in blue. Sample rulings are shown on some patches of the windshield and the side window. Such a segmentation is essential for NURBS surface fitting and manufacturing. |
| | | |
| --- | --- | --- |
| Modeling curved creases. (Left) Crease curves are specified by the user on a developable surface. (Right) The resulting shape obtained with the curved folds along the prescribed curves. | | |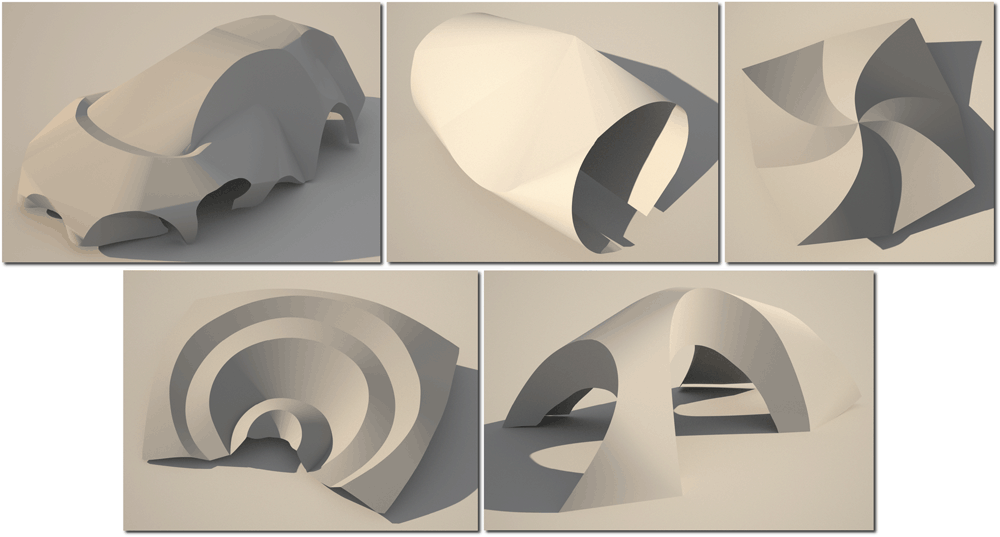 A gallery of digital paper models. Models were computed with our algorithm with scans of real paper models as reference surfaces. Reconstructed models exhibit curved and straight folds and can be isometrically unfolded into the plane. Several special cases like cone singularities (top row - middle) and converging curved folds (top row - right) are shown.
Bibtex:
@article{kfcmsp_folding_sig_08,
AUTHOR = "M. Kilian, S. Fl{\"o}ry, Z. Chen, N. J. Mitra, A. Sheffer, H. Pottmann",
TITLE = "Curved Folding",
JOURNAL = "ACM Transactions on Graphics",
VOLUME = "27",
NUMBER = "3",
PAGES = "\#75, 1-9",
YEAR = "2008",
}
| | | | | | | |
| --- | --- | --- | --- | --- | --- | --- |
| | | | | | | |
| paper (22MB) | | paper (4MB) | | slide (21MB) | | car development |